In a bind
The chest-binder business caters to lesbians and female-to-male transgender people and may be next in line to become an export success By Ho Yi STAFF REPORTER Thursday, Aug 02, 2007, Page 13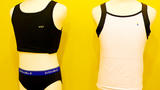 Double carries a wide collection of chest binders, underpants and swimsuits catering to tomboys who want to make their breasts and buttocks look as small as possible.PHOTOS: HO YI, TAIPEI TIMES AND COURTESY OF LOVE BOAT LESBIANS FASION SHOP
Taiwan has a lot of specialty products such as Oolong tea, Giant bikes and Asus laptops that are internationally recognized. However, there is a strictly made-in-Taiwan business that has gone virtually unnoticed by the public, one that caters to the needs of women who want to maintain flat chests.The desire to have a flat chest may seem perplexing to many heterosexual men, but for butch lesbians, or "Ts" (short for tomboys), and female-to-male transgender or transsexual people, the invention of the chest binder serves an important need.At Taipei's one and only lesbian store, Love Boat Lesbians Fashion Shop (愛之船拉拉時尚概念館, www.love-boat.com.tw), which carries gay women-related items ranging from sex toys, publications, DVDs, bags, clothes, shoes and accessories designed by local lesbian designers and custom-made suits and shirts for Ts. Chest binders in different designs are among the most popular items for visitors from Hong Kong, Singapore and Malaysia. OUT OF THE CLOSET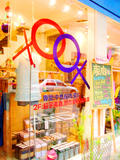 At Love Boat Lesbians Fashion Shop, goods are marketed to and designed by local lesbians.
Before the arrival of the miraculous chest binder, there were only elastic bands and tight, heavy belly binders available for butch lesbians who wanted to make their breasts as inconspicuous as possible. "But the rubber bands don't allow sweat to evaporate nor can the skin breathe freely. They are smothering to wear and can cause allergies," shop-owner Vivi Li explained.Newer model chest binders made of cotton, linen or Lycra solve all these problems. The fabrics are suitable for different seasons. The color palette is predominately black, white and gray as tomboys are generally less than flamboyant with colors, said Li.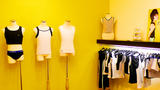 Double carries a wide collection of chest binders, underpants and swimsuits catering to tomboys who want to make their breasts and buttocks look as small as possible.
"To Ts, even a camouflage design is too loud and over-the-top ... . The items, though, are surprising popular among lesbian soldiers," said Li, adding that the binders are also popular with large-breasted women and yoga instructors who don't like their bosoms to get in the way.Other products targeted at Ts are underpants made for a woman's body with a gender-neutral design.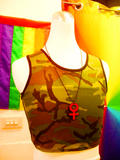 At Love Boat Lesbians Fashion Shop, goods are marketed to and designed by local lesbians.
"One of our store's missions is to understand what kinds of products gay women need and try to find or manufacture them," said Li, whose services also include relationship counseling and matchmaking.Equally popular among tomboys both from home and abroad is Double (達博企業社, double.net.tw), a binder label that sells its special products mainly through the Internet like other well-known brands such as T-Kingdom and Two's do. Their oversea customers can be found in Japan, China, Canada, the US and Europe.At its office-cum-showroom on Minsheng West Road (民生西路), the four-year old business sports a wide collection of chest binders catering to Ts of different needs. The vest and sport-bra models, for example, are cool, summer wear and the functional long sleeveless-shirt model can also help hide big bellies. For tomboys who like to wear a T-shirt under a shirt, they can slip on a T-shirt styled binder, reducing the need for any additional garment, while a long shoulder strap caters to those broad across the shoulder. RUBBER AND BLUBBER
Double's clients also include men who suffer from gynecomastia, also known as "moobies" (man-boobs), and like to hide their sometimes embarrassing but not uncommon condition.Old-style chest binders that look like a large rubber straps can also be found at the store. "Though tight and uncomfortable, the rubber strap has greater binding effect and is favored by uncle Ts [older generations of butch lesbians with strong male looks and gestures]," said one of Double's three founders, known as Hsiao Kuei (小龜).For tomboys like Hsiao Kuei, the chest binder provides an answer to many difficulties encountered in life. "I used elastic bands in high school, but it took lots of time to wrap them round my body and when I played sport, they tended to come loose and slip down. I had to repeatedly experience the embarrassment of adjusting the rubber bands during exercise and also my mother's questions on why I spent so much time in the restroom every morning. So you can image how excited I was when I discovered the binder in college. It was really a godsend," Hsiao Kuei recalled, adding that the majority of local butch lesbians wear chest binders and similar products.Whether it's the chest binder or specially designed underpants and swimsuits that help to make the rear appeal smaller, businesses like Love Boat and Double have found niches long overlooked by the mainstream. Given their success in the local and even regional lesbian community, it is more than possible that this could become another well-known Taiwanese international export.
Article: http://www.taipeitimes.com/News/feat/archives/2007/08/02/2003372456